Zagori Sparkling Lemon
Τhe fine bubbles now also in a new sleek 330 ml aluminum can! offering a unique uplifting taste experience! The new Zagori Sparkling lemon in 330 ml can  uniquely combines pure Zagori natural mineral water with sparkling bubbles and a tasty twist from natural lemon and lime aromas, for a refreshing dazzling effect!
BACK TO CATEGORY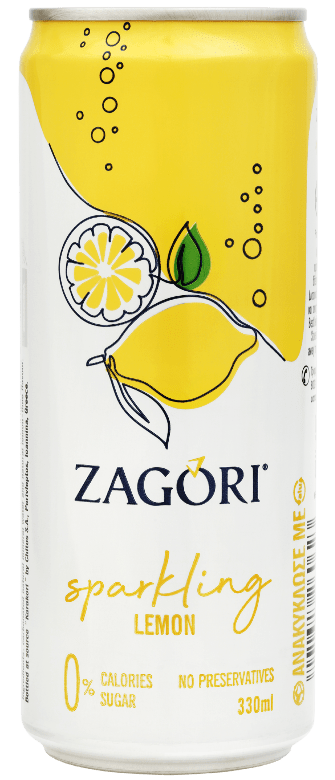 Discover the Sparkling in Can!
Now the refreshing and rejuvenating taste of Zagori Sparkling water in a new sleek 330 ml aluminum can!
The new Zagori Sparkling range combines pure natural mineral water from the Zagori area with natural aromas and fine added bubbles,  offering a healthy and uplifting taste experience! With, 0 calories and 0 sweeteners
0% sugar
0 sweeteners
0 calories
Without added artificial aroma
30% Recycled plastic
Decrease our ecological footprint and use of virgin plastic in our packaging.
100% Recyclable
Enhance the circular economy by supporting the value of recycling and reuse with our consumers (reuse-reduce-recycle).
With addition of carbon dioxide
Of fresh lemon notes
Properties of ZAGORI Natural Mineral Water
Rich in minerals and nutrients with a deliciously balanced mild taste.
With addition of carbon dioxide
With cool bubbles for the most sparkling experience!